Auto Accident Attorney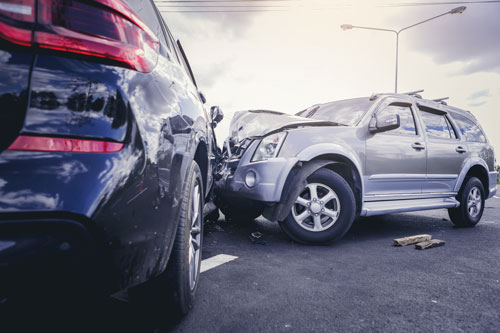 If you've been involved in an auto accident, you may be entitled to compensation. The law requires the at-fault party to compensate the plaintiff for economic losses (such as medical bills, wage loss, and damage to your vehicle) as well as non-economic damages (such as the pain, inconvenience, and frustration caused by your injuries).
Car Accident Lawyer
Insurance companies will always say they want to do the right thing and treat you fairly. What insurance companies mean is they will pay what they think is fair.  An experienced auto accident attorney can tell you if an offer is fair.
A common tactic insurance companies use is to make an offer to settle early on, before the injured person has stopped seeking medical treatment or has an attorney. Why do they do that?  Because it is more profitable for them.
The value of a vehicle accident case is based on many factors including:
The types of injuries the person has
Whether the person has a motor vehicle accident attorney
The amount of medical bills
The length of treatment
How the accident ultimately affected the person
Settling before those factors are known and without a car accident lawyer, means the insurance company is paying less than it otherwise should have.

Free Consultations!
Click below to start the process on your consultation.
Motor Vehicle Accident Lawyer
What you do following a motor vehicle accident lays the groundwork for a successful personal injury claim. Whether it's a major accident or a fender bender, damage claims and insurance companies will likely be involved. The actions you take can make all the difference in how claims or lawsuits get resolved. Below is a list of things to keep in mind following a car accident.
Most important of all, immediately check on the safety of everyone involved in the accident. Call paramedics if there's the slightest possibility that anyone is injured.
Oregon law requires that a driver involved in an accident perform certain duties after an accident. Those duties are that the driver exchanges his or her name, address, and insurance information with the other driver(s).  It also requires that you report the accident to DMV within 72 hours. Tip: take pictures or video of the information the other driver gives you. Take a picture of the other driver's license plate.
Seek medical treatment as soon as possible, and make sure you follow through on all prescribed courses of treatment and follow-up visits. You need to be establishing a thorough medical record to document injuries.
Do not give a recorded statement to the other driver's insurance company. You should give a statement to your company, but not the other driver's.
Contact your insurance company as soon as possible following the accident. Keep careful track of the claim number you are assigned and the name of your claims adjuster. Report the accident to the other driver's insurance company as well, but be careful about what you say.
Experienced Auto Accident Attorneys
OlsenDaines has been helping people injured in motor vehicle accidents for 40 years. We have experienced auto accident attorneys ready to assist you in making a successful personal injury claim after your vehicle accident. We have offices throughout Oregon and Washington. Contact us today for a free consultation.
Back to Personal Injury Law
Auto Accident Attorney in Portland OR and Salem OR
And all surrounding areas